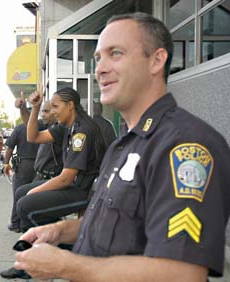 Safety is everyone's job, and Eight Streets maintains a great relationship with Boston Police Department. This allows BPD to keep our neighbors information, and for us to keep BPD apprised of trouble spots should anything arise in the neighborhood.
BPD comes to a NA meeting once a year to discuss safety and any crime/hot spots in the South End over the past year.
We also have a yearly safety walk with BPD, where we walk a section of Eight Streets with BPD and learn safety tips and areas where we can make the neighborhood safer from crime.
BPD has a community meeting the 4th Monday each month. All residents are welcome to attend. Meetings start at 6pm in the D4 community room at 650 Harrison Avenue.
Area D4 (our police district) Community Service Officer is Sgt. Lucas Taxter.
@LucasTaxter
In Boston, you must use the 9-1-1 system for non-emergency situations, as well as for emergencies.

Non-emergency issues such as a loud party, a double-parked car blocking you, report someone suspicious in the neighborhood. Any situation you think needs police attention, you need to call 9-1-1 to get the police to respond to your incident.

When you call 9-1-1 the operator will ask "Is this an emergency". If it is not an emergency, say "no". The operator will then take down your issue and dispatch the police to your location. The operator will assign a priority to your call, so don't worry that you are taking police away from an emergency. On the same note, the police may take a long time to respond to you if there are other emergencies in the area.


It may take some getting used to, but please do not hesitate to call 9-1-1 to report anything you think police need to know about - emergency or not.